Filter by Category
Woodworking
Carving a Comfort Bird
with Bob Lindemann

Mar 26, 2020 at 6 pm

, runs for 1 week
Carving this small bird will give you the confidence to take a block and produce a smooth, flowing, little bird.  Many think this idea came when a woodcarver wanted to give his grandmother a small trinket to hold and stroke while she was going through a tumultuous time in her life.  Giving comfort to the holder this idea has grown in popularity within the health community.  Join us for a 3-hour workshop to learn the intricacies of wood carving, sanding, and finishing your own comfort bird.  
Will run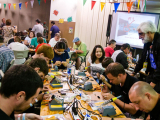 Call to Teaching Makers
with Mame McKee

Mar 29, 2020 at 10 am

, runs for 1 week
Are you interested in building a community around art, craft, and making?  Are you passionate about helping others and sharing your knowledge with those around you?  
We want to work with you to build your ability to excite others about your art and craftsmanship.   We want you to help us reach so many of the people in our community in a vast array of ways.  
If you want to teach in our already full summer courses, come to MakerShpere. 
If you have a trade or craft that you could teach, come to MakerSphere.  
Partner with us to find your classes and teach the people in our world.  
Come to the MakerSphere on March 29th from 10 to noon to learn about how we can work together.  
Wood carving - Wizard
with Bob Lindemann

Apr 9, 2020 at 6 pm

, runs for 1 week
This workshop focuses on the small details of wood carving.  Students will make a small wizard to understand the intricacies of facial and hair carving.  All tools and wood blanks are part of the course. 
Carving a face and eyes is always a challenge for novice carvers, this pattern helps make your first attempt at a face more successful.  If time permits, paint will be available so you can go home with a finished carving. 
 This 3 hour workshop will push your wood carving to the next level.