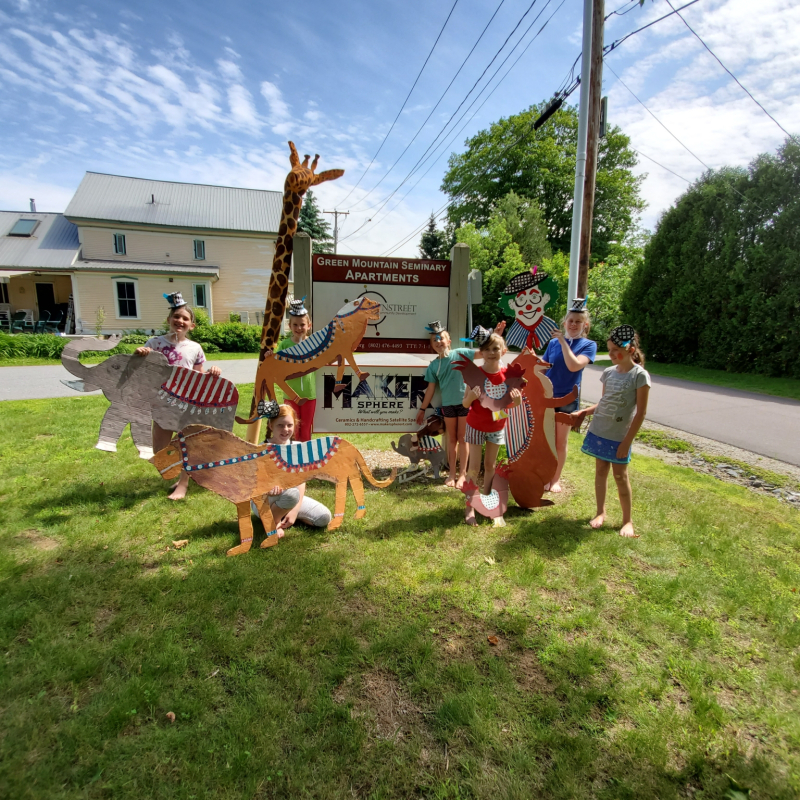 Design & Build a Parade Float 4th - 8th grades
with Mame McKee & MK Monley
$30000
Design and build: Monday - Friday, Parade on Saturday at 3 pm.
Each summer Waterbury Rotary Club organizes a Not Quite Independence Day Parade and festivities and so each year we jump at the chance to design and build a fabulous parade float! Sometimes we win ribbons but we always have great fun! This year the parade will be on July 10th to comply with the Governor's safe gathering guidelines and the theme is The Roaring 20's.
Kids will research the 1920s and compare it to their experience of, and vision for, the 2020's. We will start by writing a simple play. From there we will brainstorm clever ideas to tell our story visually on the stage that will become our float.
This is a focused and ambitious camp with only five days to design and create elaborate and cohesive staging. We accomplish all this using individual ideas developed and created by teams. Every child will have the opportunity to have their own art shine and the satisfaction of helping their friends create as well.
Lots of painting and drawing and making and figuring and fitting and thinking and laughing and playing in this camp!
PARADE LINE UP AT 3 PM ON 7/10/21. PARADE STARTS AT 4 PM.
Jul

5

-

9th

,

2021

Mon - Fri

for

1 week

from

9:00 am - 3:00 pm

Will run
201 Hollow Road Waterbury Center
201 Hollow Road
Waterbury Center, VT 05776 Get directions
Room: Tent